Welcome to the Class 1 pages with Mr Gaul and Mrs Elliott.
Thank you for sending in examples of the great work that's going on at home! You can find the children's photos by clicking on the accompanying Class 1 Celebration page.
In our phonics lessons, we play different games to help us learn, which can also be done at home, such as:
- hangman for cvc words - you may want to give a hint such as some of the letters (d_g), or a hint (it's an animal).
-

jumbled up words, such as: dgo, cta, brid,
-

word search

( there is an animal one below (you can make your own to match your child's interest on the website 'armoredpenguin'. (The words are set to go only forward and down).
-

pairs

: write pairs of words on pieces of paper. Place them face down and turn two up at a time to find the matching pairs. If you find a pair, have another go.
-

bingo

: write your own cards of the sounds that your child needs to practice ( there are also online generators, such as 'myfreebingocards.com'
-

jumbled up sentence

: on a strip of paper write a simple sentence, such as 'The cat sat on the mat'. Then cut out and jumble up the individual words for your child to rearrange correctly.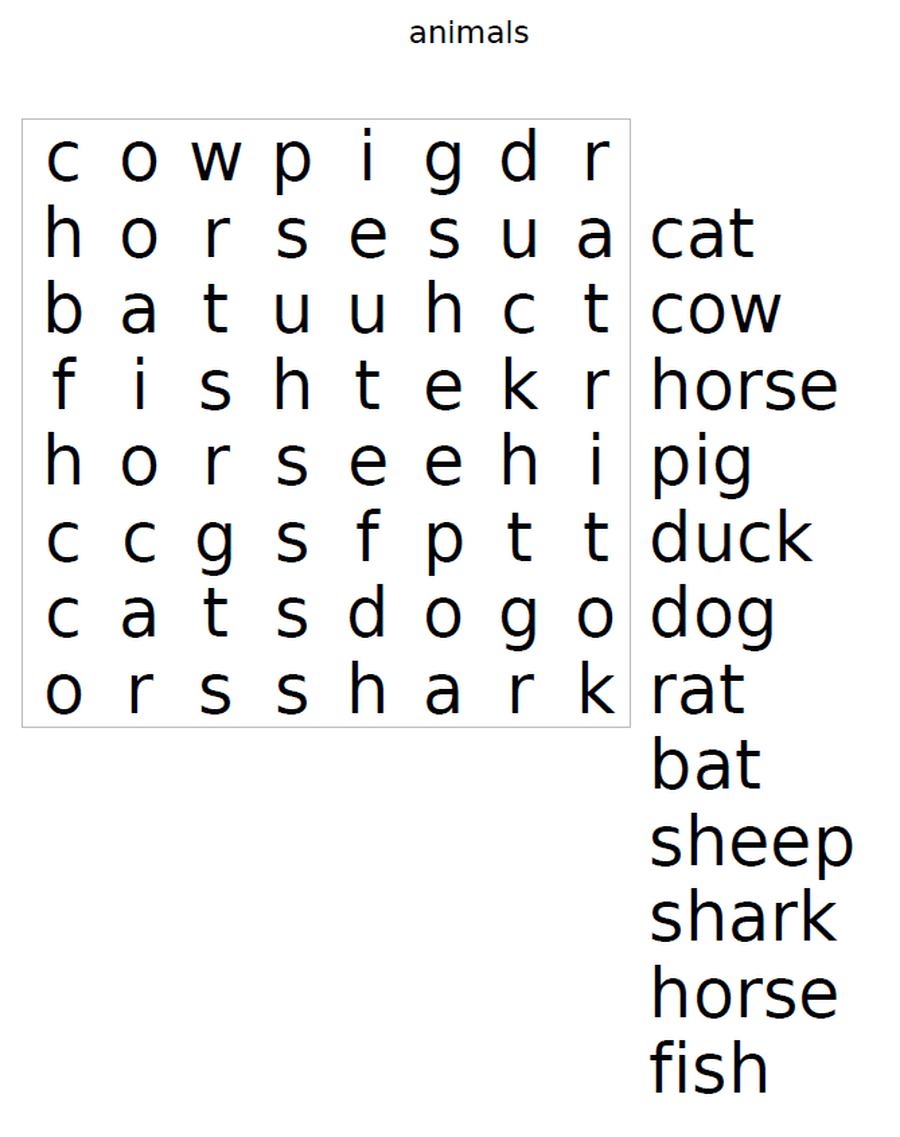 We use the RML scheme to teach phonics. The following videos will help you to understand how this is taught, please click on each sentence to be directed to a video:
PLEASE USE THE FOLLOWING TO PRACTICE YOUR PHONIC SOUNDS: SET 1
We often use songs and actions to learn our letter sounds and numbers. The following links are some of the ones we regularly use, just click on the title:
Some websites that I would particularly recommend are:
The Early Years curriculum encourages a whole-child approach and the greater variety of experiences that your child can have the more it will help their development. Below is a link to the website "50 things to do before 5 in Bradford":
https://bradford.50thingstodo.org/app/os#
Please e-mail me with any questions that you may have: rgaul@stas.bradford.sch.uk
For the week beginning 18th May, please access the learning timetable below, along with the accompanying powerpoint.
For extra work, and also to find year 1 age work if you feel that your child needs a further challenge, please us the links below to the The White Rose Maths Hub and BBC bitesize.
https://www.bbc.co.uk/bitesize/dailylessons
https://whiterosemaths.com/homelearning/
For help with Maths, follow the link below to the Nrich site:
https://nrich.maths.org/covid19
Could you also please try to make some time this week to find out how your child is progressing in terms of the end of the year goal for Number, which requires them to be able to do the following:
1. Count and recognise the numbers from 1 to 20

2. Place the numbers from 1 to 20 in the correct order

3. Say which number is one more/one less from any number to 20

4. Using quantities and objects, add and subtract two single-digit numbers and count on or back to find the answer.
When your child is not at school and you would like to support their education at home, there is plenty that you could help with towards their Literacy and Numeracy progression.
Literacy:
By the end of the Reception year our goal is to teach your child the 43 sounds that you will find below in SET 1 and SET 2 phonics. Your child can read them on the screen or you could write them out for them. Please use these letters to form different words, beginning with simple CVC words (consonant vowel consonant) such as mat, dog, etc.Then build up to incorporating the SET 2 sounds - words such as play, boy, girl, etc.
This could then be followed by writing simple three word sentences, such as: the red fox; a fit cat; a pink bird, etc.
If you have age appropriate reading books at home, regular practice would be extremely beneficial.
For both numeracy and literacy, finding opportunities for real-life applications can be an engaging way to help your child. Such as writing shopping lists, labeling pictures, leaving notes for a family member, counting objects around the house, adding and subtracting toys, recognising shapes in the home environment, playing dice and card games, etc. (You will find a link below for further ideas).
I can not over-emphasise how important it is for your child to have regular reading practise. The goal for your child is to read the set 1 and set 2 sounds below fluently and to then be able to place them in simple words and sentences.
Numeracy:
The early goals for number and shape are as follows:
Numbers: Children count reliably with numbers from 1 to 20, place them in order and say which number is one more or one less than a given number. Using quantities and objects, they add and subtract two single-digit numbers and count on or back to find the answer.
Shape, space and measures Children use everyday language to talk about size, weight, capacity, position, distance, time and money to compare quantities and objects and to solve problems. They recognise, create and describe patterns.
The following is a useful site for online reception age maths games:
https://themumeducates.com/top-10-free-numeracy-games-for-reception-age-kids/
Currently the website Twinkle is providing downloadable home lesson plans for children of reception age (EYFS) and they can be accessed as follows:
https://www.twinkl.co.uk/resource/eyfs-maths-elg-home-learning-challenges-activity-pack-t-n-2546953
https://www.twinkl.co.uk/resource/eyfs-school-closure-home-learning-resource-pack-t-tp-2549362
https://www.twinkl.co.uk/resource/eyfs-school-closure-interactive-learning-links-t-tp-2549368
You may need to sign up for a free account to access the lessons.
If you have any questions, please e-mail me on my school e-mail address: rgaul@stas.bradford.sch.uk
Please practise the SET 2 sounds from our phonic's scheme below:
Purple Mash is an excellent online site that covers a range of school topics. As we subscribe to it as a school, your child will have their own login details. If you do not already have your child's details, please e-mail me ( my address is at the top of this page) so that I can send them to you. In Class 1 we use the Mini Mash section of the website. However, if your child is finding the mini-mash section too easy, you can search for activities in the 5-7 age range, especially useful for number and place value. https://www.purplemash.com/#tab/numbers_place_value
Below is a useful link to the SCARF website that has ideas to support children's mental health. SCARF is a scheme that focuses on children's physical, social, emotional and health needs: