St Anthony's Charity work.
2022 - 2023
The following are dates with a RE/fundraising focus:
Family fast day – contributions to soup lunch. Friday 7th October.

Harvest assembly – Friday 14th October.

Produce donated to Bradford North Foodbank.

Grandparents Coffee morning for MacMillan Cancer support Friday 4th November (Mini-Vinnies)
Lent – Good Shepherd fundraising: Thursday 20

th

April

Beetle race afternoon Thursday 23rd March (Mini-vinnies)

Summer Faith lunch on Wednesday 8th Children have a quiet simple meal and donations go to charity

India day – Friday 12th May - Kathryn Mercy Home in Tamil Nadu.

Gambia 20p Tuesdays – Every Tuesday
Each class is raising money for a chosen charity throughout the Autumn term 2022.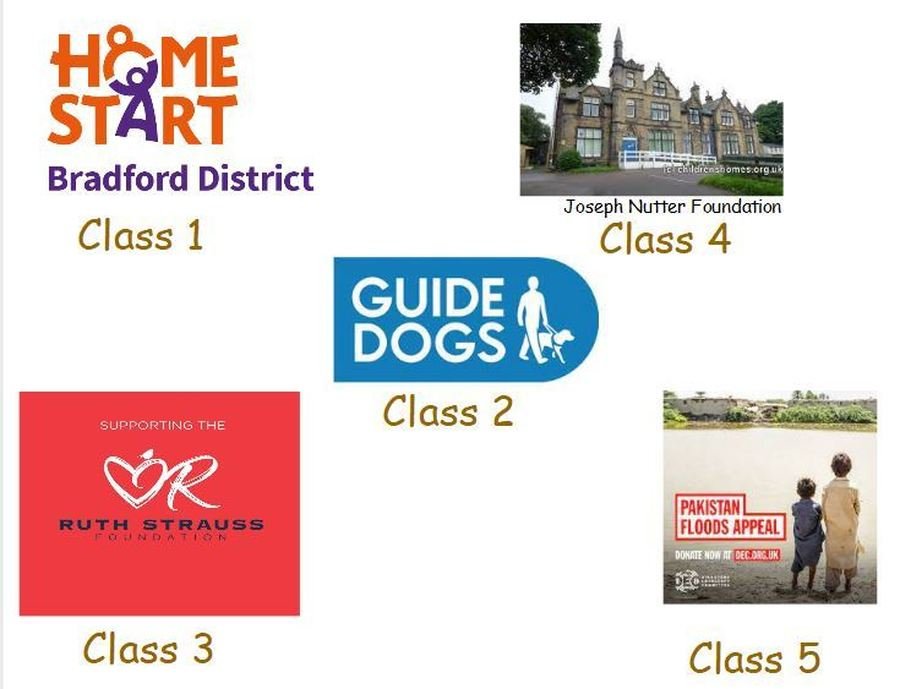 Class 1: Home-Start is a local community network of trained volunteers and expert support helping families with young children through their challenging times.
Class 2: The Guide Dogs for the Blind Association, known colloquially as Guide Dogs, is a British charitable organisation founded in 1934. The Association helps blind and partially-sighted people in the United Kingdom through the provision of guide dogs
Class 3: Ruth Strauss Foundation. Supporting families facing the death of a parent & driving the need for more research into non-smoking lung cancers.
Class 4: Joseph Nutter Foundation. Providing assistance to children or young people in need where a parent has died.
Class 5: Red Cross for Pakistan flood relief. Helping families whose lives have been affected by the floods in Pakistan.
In the summer term we have "India Day' in which we focus on the culture and belief of India and raise money for the Kathryn Mercy Home.
The produce from our Harvest appeal is donated each year to the Franciscan soup kitchen at St Pio's friary or to Bradford North Foodbank (we alternate each year).