English
This half term we focused on writing our own traditional tales. We read and discussed a variety from the ugly ducking to the princess and the pea. The children loved them all. They made some excellent changes to the story Cinderella and produced some excellent work using everything they had learnt.
Olivia K was awarded writing of the week for her imaginative writing.
Lilia was awarded writer of the week for using speech perfectly.
We then moved on to non-chronological reports. The boys especially really enjoyed the non-fiction writing. We started by using our imaginations to write about witches and wizards and dragons and bats. Mrs wood worked with some children to help with analysing what a good one looks like (WAGOLL) and we magpied lots of ideas. They were using subheadings, bullet points and paragraphs and worked really hard of developing sentences using connectives. Some children tried to up level vocabulary using thesauruses and used brackets to give definitions of tricky words.
As a final product with cooperated some ICT into English, we researched a chosen animal on the internet and in books and magazines and learnt how to take notes. We then grouped information into paragraphs and wrote up the draft non-chronological report. We did our first piece of self assessment to improve our draft and finally typed up the final piece on Word. They all worked so hard that we have made a special display in class to celebrate their achievements.
Alfie got special recognition in Celebration Worship for his note taking on sharks.
Hailey was also awarded writer of the week for using the success criteria so well. She ticked off every box!
Below is Igor's (Leopards) Matthew's (Grey Wolves)
Maths
We have been focusing really hard on linking our learning to solving problems,
NRICH http://nrich.maths.org has some excellent problems linked to the primary national curriculum for mathematics in Years 2, 3, 4, 5 and 6
Here is one that really got the children thinking and wanting to stay in at break.
CAN YOU SOLVE IT??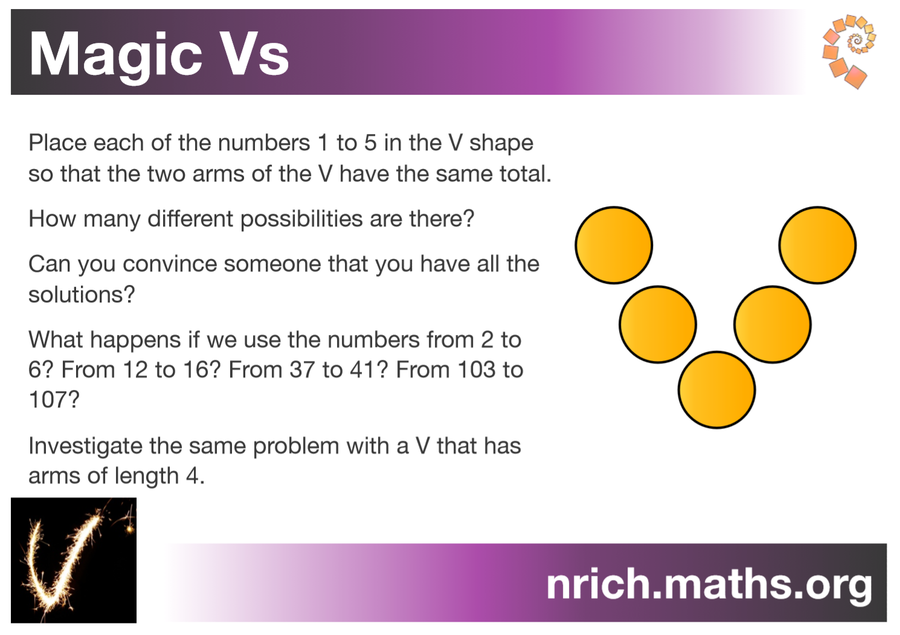 Art
As a stimulus for our art work we used mountains (our geography topic). We learnt about background, mid-ground and foreground and used different materials to create a mountain landscape.
We had a special visit from our art specialist Mr Bullock and the children learnt skills when using clay. We looked at mountain yetis and created our own scary faces.
Religious Education
This half term has been all about being part of a Christian family. What your role is in different communities and more specifically their roles in the catholic church. They children wrote some superb letter to their parish priests with some children getting replies in the post. The children had some interesting and thought provoking questions, so much so that Father came into school to talk to the children for an hour and answer some of their questions, They performed a baptism to their favourite doll or teddy, following the correct procedure and using all the right symbols, oils and dialogue.
This half term
Nimi has been awarded the wristband for her knowledge and understandings.
James got a special mention for the letter he wrote to his parish priest and the reply he got was read out in celebration worship.
RE - Mary, our Mother
Naturally, during this half term our focus has been on the Christmas Story.
We studied the words of the Hail Mary and linked it to the events of the Annunciation and Mary's visit to her cousin Elizabeth, who was herself pregnant with John the Baptist. The children all know the story of Jesus's birth very well and have been eager to retell it in a number of different ways. We have been hard at work preparing our Nativity play in which we are reading and singing to support Class 1's acting.
As an extra topic, we have looked at people who have authority around the world and why that authority is important for keeping us safe.
From there, the children have studied bible stories in-depth to see how Jesus showed authority during his ministry on earth, how that authority is still relevant and how we use it to shape our lives today.
Eammon was given RE award in worship for his superb knowledge and understanding of Mary's importance.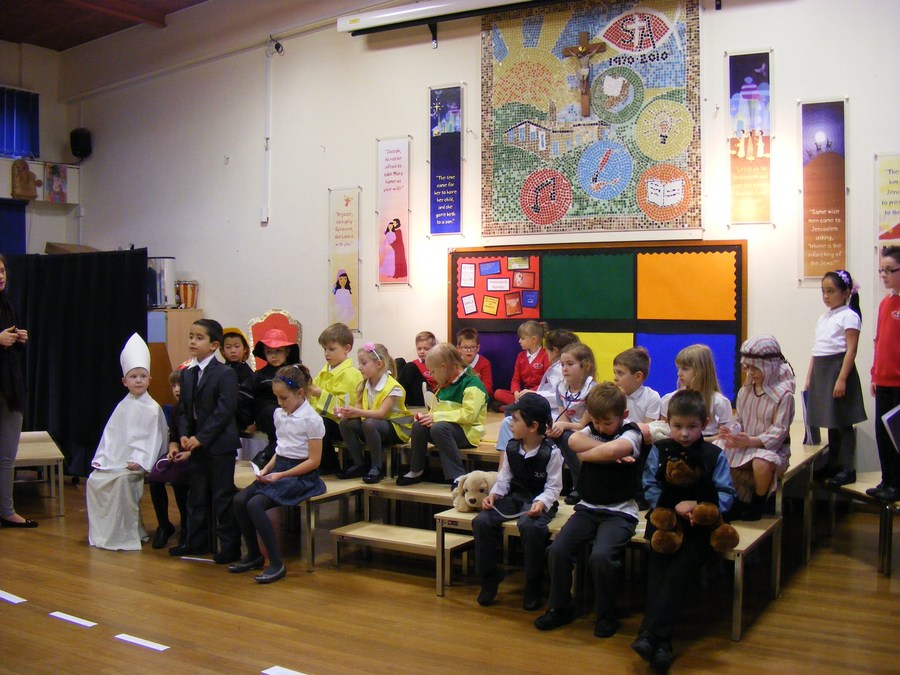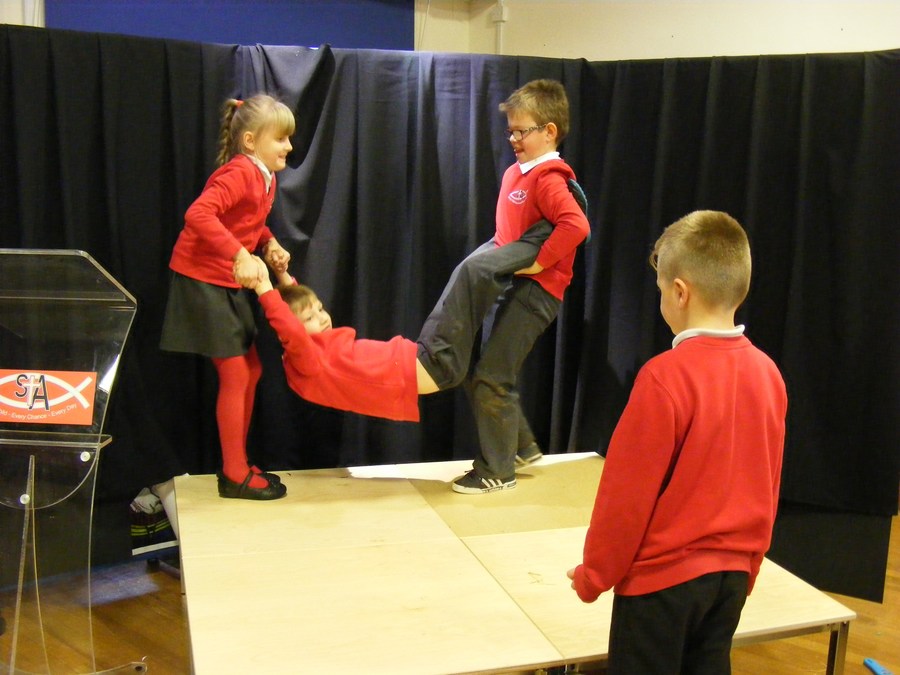 History - Anglo-Saxons
In history we have been time detectives, learning all about Anglo Saxons. The children have learnt about food the Anglo Saxons ate and how it was gathered and cooked, what living as an Anglo Saxon villager was like and how Anglo Saxon place names tell us what England was like in Anglo Saxon times. Also, we had fun recreating the finds at Sutton Hoo; looking at the unusual artefacts found in the grave and what they told us about the person buried there. We looked at the weapons and armour of an Anglo Saxon warrior and saw an animation of the famous Anglo Saxon poem, Beowulf. We ended with the stories of King Alfred and the cakes and King Harold and the Battle of Hasting,s which ended Anglo Saxon rule.
Science
Light and Dark has been our topic and the children have been learning about light sources: how light travels and what they can do to bend light beams; materials which reflect light and those which absorb it; the effects of light on opaque, translucent and transparent materials and why retro reflective materials work to keep us safe in the dark . Carry out your own experiments at home with a torch and a mirror or other shiny surfaces to see how many times you can bend the light to hit a target.
PE – Dance
The children have loved learning dance moves and putting them together to chorography a full dance to Ellie Goulding, 'Burn'. We also did a Connor Maynard dance to 'Animal' where the children spit into a boys and girls team and learnt some more hip-hop moves to a much quicker beat. They have concentrated on footwork, timing and remembering the dance week after week and cannot wait to perform in Worship on Friday for the parents.
Olivia was awarded attitude in Worship for leading the group so well.
English – Adventure Story
Using the text The Tunnel by Anthony Browne and the short stories by Pie Corbett, Kidnapped and Adventures at Cranberry Park by.
We analysed the text and discussed the good parts to create our own success criteria. We practice writing an interesting introduction describing characters through personality. We described the setting using commas in a list and the 5 senses. We really concentrated on the dialogue, using inverted commas and other words for said. They developed there chase and hide section so they described what happened using long and short sentences, strong verbs and adverbs and sound effect to make it more dramatic.
By the end of the unit they were professional story writers and their final piece was really fantastic.
James has made so much progress this half term so he definitely deserved an award in Friday Worship.
School trip - Dairy Farm
We had the opportunity, through the Countryside Trust, to visit a dairy farm.
The farmer showed us where the cows lived and as the grew up from calf to cow. He explained how the cows were milked in the olden days and how it progressed over the years to the hi-tech machinery he had at the farm. The cows no when they need milking and feeding and a robot does all of it!!
We were lucky enough to mean some newly born calves and all the children enjoyed feeding them, stoking them and even letting them suckle on their thumb :)
DT - Sewing
The children have enjoyed this terms DT topic which is sewing. Using binka and embroidery thread, they have learned how to thread a needle, do a running stitch, follow a pattern and master cross-stitching to create a Christmas stocking which will decorate their Christmas cards. Whilst engaging in this is activity they have used their fine motor, concentration, planning and problem solving skills to produce an end result which they are very proud of.
Partners